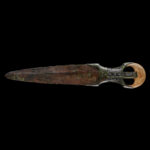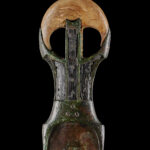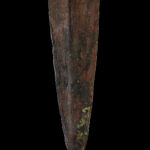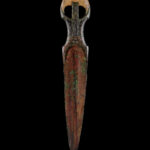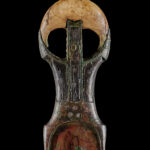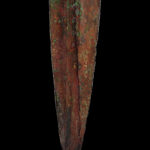 EGYPTIAN BRONZE DAGGER WITH HYPO TOOTH POMMEL
MIDDLE KINGDOM- SECOND INTERMEDIARY PERIOD
2000-1650 B.C
Provenance
H. Blaser collection, Zurich, acquired in the early 1970s. Swiss private collection, acquired in 1991. Kallos Gallery, London, 2021. Exhibited in April 1998 until January 2021 on loan to Antikenmuseum Basel.
No restoration.
As early as the Predynastic Period, Egyptian warriors relied on fearsome battle-axes and sharp daggers to crush their opponents in hand-to-hand combat, whilst employing the bow and arrow from a distance.
Such daggers are predominantly preserved in museums such as Cleveland, Boston, the Met, the Louvre and the British Museum. Indeed, this example has been on loan to the Basel Museum for the last twenty years. For the type, see L. Berman, Catalogue of Egyptian Art: The Cleveland Museum of Art, New York, 1999, no. 135, p. 185; also W.C. Hayes, The Scepter of Egypt, Part I: from the earliest times to the end of the Middle Kingdom, Metropolitan Museum of e Middle Kingdom, Metropolitan Museum of Art/Harvard University Press, 1978, p. 284, fig. 186.