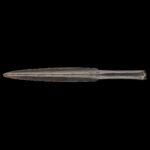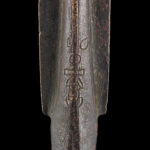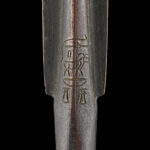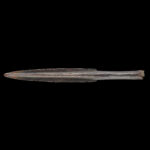 ANCIENT EGYPTIAN BRONZE SPEAR HEAD, INSCRIBED WITH HIEROGLYPHS, 992-990 B.C.
The spear head is very historically interesting piece. One of the very few documents naming the High Priest of Amun in Karnak Smendes, son of the High Priest of Amun Menkhepere who succeeded his father. Smendes had only a short pontificate (992-990 BC) and was followed by his brother Pinodjem II in the same function. Smendes  (often named "II" to distinguish him from pharaoh Smendes "I") lived during the reign of Psusennes I and possibly Amenemope. The text reads as follows: "Nes-ba-neb-djeded (= Smendes in the Greek form of this name), son of Men-kheper-re". Beautiful epigraphy, very rare, nice piece.
Inscribed with hieroglyphs on both sides.
Intact condition, with nice brown patina, no restoration or repairs.