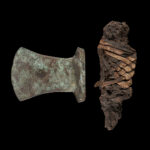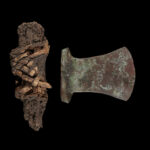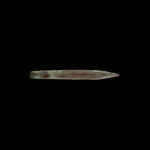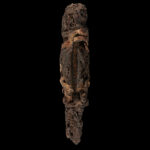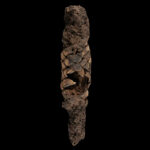 EGYPTIAN BRONZE AXE WITH FRAGMENT OF SHAFT, SECOND INTERMEDIARY PERIOD – NEW KINGDOM
Second Intermediate Period, 13th – 17th Dynasty, Ca. 1786-1567 BC The sides flaring to the curved cutting edge, the remnants of the wooden handle still lashed with leather to the broad, squared lugs. Item comes with a professional historical report from Ancient Report Specialists.
For reference: Cf. Sir W.M Flinders Petrie, Tools and Weapons, (1917), pp 8-9, pl. V, fig 133. For similar lashing: pl. VII, fig 143 for similar axe head. Ex. Bonhams, October 28, 2009, no.27.
Provenance: Property of a private collector; Ex. Bonhams, October 28, 2009.